Compassionate talk therapy is now available in the confidential surroundings of your own home. Technology makes it possible for doctors and patients to visit virtually, so you can securely enter into psychotherapy or receive treatment for any other mental illness with ease from anywhere. Your doctor, one of the top Online Psychiatrists serving New York, New Jersey, and Florida, is now open for telepsychiatry appointments. Dr. Zlatin Ivanov has found online therapies to be even more effective, with quicker positive results, than in-person sessions. Call today to find out how telepsychiatry can help restore your mental health.
★★★★★
Dr.Ivanov really listens to you and gives great feedback! He is helping me lower my medications safely and suggested a different order of taking them that has helped. I am very glad I chose to schedule with Dr.Ivanov!
Google Reviews
What Is Telepsychiatry?
Telepsychiatry is a revolutionary method of delivering psychiatric care and talk therapy. It allows you to access the best psychiatrist for your needs from a distance. You use live interactive communication, such as video conferencing, psychiatric phone services or a mix of media options. This form of treatment is convenient and affordable, and it has proven to deliver quicker results than traditional in-person psychiatric treatment.
When searching for the best telepsychiatry near me in Manhattan, NYC, NJ, or FL, you'll find Online Psychiatrists. They provide medication management and remote psychiatric services, as well as in-person treatment of a wide range of mental health challenges, including:
How Can Online Psychiatrists Provide Care?
By leveraging the miracle of high-speed internet communication, you can obtain face-to-face care without having to rush across town for your appointment. Once you schedule an appointment with your online psychiatrist provider, the only things you need are a computer, smartphone or tablet to your doctor in a relaxed setting in the comfort of your home.
At your scheduled appointment time, just log into an online conferencing platform or wait for your psychiatrist to call. Your online psychiatrist can:
Do a psychiatric evaluation
Reach a diagnosis
Create and implement a treatment plan
Prescribe medication
Even refer you to other services
Treatment through telepsychiatry can include medication management, client education, individual therapy and group therapy. Online psychiatric care is often superior to in-person therapy when it comes to quality of care, diagnostic accuracy and treatment effectiveness.
Harvard Certified
Nationally Recognized
Book Appointment
What Are the Benefits of Video Psychiatry?
Many people have had to forego in-person psychiatric visits. But with the advent of online psychiatry, those same people now have access to the help they need in the comfort and privacy of home. There are many benefits to this form of treatment, including:
Eliminating commute time and distance. When you don't have to fit commute time into your busy schedule, you're more likely to pursue treatment. Avoiding a commute means you don't have to worry about taking time off work to travel to a mental health appointment.
Removing transportation barriers. Online psychiatry makes treatment possible even if you don't drive, you're geographically isolated or live in a rural area far away from your treatment provider. All you need is an internet or phone connection.
Overcoming physical limitations. If you're disabled, housebound or have physical limitations that make traveling to a healthcare provider challenging, online therapy provides accessibility.
Reducing perceived stigmas. It's not uncommon for people to avoid seeking psychiatric care because of the stigma attached to mental illness. Online psychiatry removes the fear of a friend or acquaintance observing you visit a therapist's office.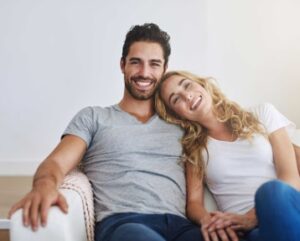 Some diagnoses respond exceptionally well to telepsychiatry providers, particularly anxiety disorders. Obtaining virtual treatment through video psychiatry also helps you avoid the anxiety-inducing experience of sitting in a room waiting for someone to call your name.
What Are the Types of Video Psychiatry?
Your psychiatrist phone sessions may consist of any number of therapeutic styles. First and foremost, your doctor is concerned with what works best for your particular needs. The primary objective is to achieve positive results. Types of services you may participate in include:
Integrative Therapy
Family therapy
Cognitive Behavioral therapy
Dialectical Behavior Therapy
Interpersonal Therapy
Marriage counseling
Couples/Relationship Counseling
Interpersonal Therapy
Career Counseling
Grief Counseling
Each of these forms of treatment have specific uses. Listen to your therapist
Why Should I Choose Telepsychiatry at Online Psychiatrists?
When you trust Online Psychiatrists with your mental health treatment, you can count on proven effective care from board-certified practitioners. They offer evaluation, diagnosis and treatment for adults with mental health problems between the ages of 19 and 65. Telepsychiatry allows you to receive maximum face-to-face time without requiring an in-person visit. The online video psychiatry technology platform is easy to use, safe and secure.
If you've postponed or avoided getting psychiatric care in the past for any reason and are struggling with symptoms of anxiety, depression or addiction, give telepsychiatry at Online Psychiatrists a try. Online scheduling is easy; you don't even have to call and speak with a receptionist. Сontact Online Psychiatrists today to set up your first session.