A popular and quick-working means of mental health treatment, cognitive behavioral therapy (CBT) focuses on changing your thinking patterns. CBT recognizes that your reactions to external events are learned behaviors. Identifying them is the first step to changing and improving them. Research shows that CBT can improve your quality of life. Online Psychiatrists — in Florida, New York and New Jersey — strives to get you functioning at your best in the quickest time possible. Call today for an appointment.
★★★★★
At first I was hesitant to see an online doctor because to me it seemed rather impersonal. However after video chatting with Dr. Ivanov I can assure you that is not the case. Dr. Ivanov took the time to listen to what I had to say and how I was feeling. Not once did he judge me or belittle me for what I am dealing with. He truly is a caring, attentive and knowledgeable doctor. I have found my new psychiatrist and I highly recommend him.
Google Reviews
What Is Cognitive Behavioral Therapy?
Cognitive behavioral therapy (CBT) has become one of the most successful forms of talk therapy. It helps you understand the various types of negative thinking you experience and how this negativity keeps you stuck in unhealthy patterns. CBT lets you navigate the everyday stresses of life.
Whether used alone or in conjunction with other therapies, cognitive psychotherapy treats an array of mental health concerns, including CBT for anxiety. Employing CBT helps you overcome the debilitating thoughts and habits that are bringing you down. If you're in NY, FL or NJ, Online Psychiatrists treats adults between the ages of 19-65 with a focus on delivering the results you need to manage your day-to-day life.
What Conditions Benefit from CBT?
Our best cognitive-behavioral therapists in NYC target your approach to CBT to address specific challenges. The goal is to reduce the number of sessions to get cost-effective and noticeable results. Cognitive therapy is particularly useful in resolving issues that include:
Helping you find the most effective management techniques for your mental health concerns
Treating your condition if medication isn't helpful or an option
Addressing your emotional triggers to prevent relapses of your symptoms
Learning practical techniques to manage exaggerated emotions
Managing your stressful day-to-day life
Discovering more effective ways to communicate and deal with relationship conflicts
Finding ways to manage a medical illness or chronic physical symptoms
Resolving dramatic trauma from violence or abuse
CBT's targeted technique helps you make behavioral changes to break dysfunctional patterns and develop healthy habits. Your therapist may suggest CBT for diagnosed conditions, such as:
Anxiety disorders, such as generalized anxiety disorder
Phobias
Depression
Insomnia
Eating disorders
An ancillary treatment, cognitive processing therapy (CPT), teaches you to change your belief system to overcome the effects and burden of specific trauma. Particularly useful if you've been diagnosed with PTSD, CPT is usually successful over a 12-session treatment. By gaining a new understanding of the events that have disrupted your life, you can overcome their harmful influences.
Harvard Certified
Nationally Recognized
Book Appointment
How Does Cognitive Behavioral Therapy Work in NYC?
You can take advantage of CBT through individual or family therapy sessions. Group therapy, with others who have similar mental health challenges, is sometimes beneficial as well. With guided help from a trained and certified mental health professional, a group quickly identifies your negative thoughts and habits while supporting each other during change.
Many individual and group sessions now take place online in telepsychiatry sessions. These are especially helpful when local resources are limited or for the benefit of social distancing. During your cognitive psychotherapy, you can expect activities to include:
Receiving education about your mental health condition to better understand your symptoms and triggers — and how each affects your daily life
Discovering and practicing useful techniques for addressing these concerns through stress management, relaxation, resilience and assertiveness training
Addressing powerful emotions triggered during specific life situations and using your coping mechanisms to manage them
Increasing your confidence as you successfully manage your emotions, symptoms and stressful life situations
Using a goal-oriented approach to target your most dysfunctional patterns, instituting change and helping you regain control
Your psychiatrist at Online Psychiatrists may suggest homework to strengthen the skills learned in therapy sessions. Your CBT in NYC may be combined with other methods, such as interpersonal therapy, which helps you find healthy ways to relate to others.
What Are the Steps of CBT?
Most cognitive therapy follows similar steps, such as:
Working to identify which situations cause you the most discomfort. Are you working through grief, anger, or symptoms of a physical or mental illness? Are you changing habits to combat substance abuse? These are questions you answer during this first step.
Identifying your thoughts, emotions and beliefs, so your medically licensed therapist can address them. You learn how you unconsciously interpret some situations. For example, if no one in your family has divorced, you may believe your divorce indicates personal failure.
Uncovering areas of negative thinking. Negative modes of thought are destructive to your well-being. Once you consciously identify them, you can overcome them.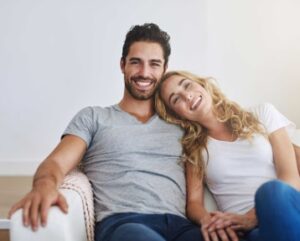 During your CBT NYC sessions, you must be honest about yourself and your reactions to people and events around you. You get the most benefit from the therapy by staying true to your feelings and by being honest with yourself.
What Are the Results of Cognitive Behavioral Therapy?
Most CBT therapy sessions in NYC last around 50 minutes. You need between five and 20 appointments to complete treatment. Its targeted approach works immediately to facilitate quick and noticeable changes, but CBT isn't designed to cure a condition. It's a set of management techniques to help you develop a positive attitude and healthy habits.
Cognitive behavioral therapy delivers the best results when you're open and honest with your psychotherapist. While your results aren't instant, CBT is a time-tested, cost-effective means of achieving your goals. Contact Online Psychiatrists to take back control of your life.