Not every form of therapy involves a one-on-one psychotherapy session with a therapist. Couples counseling aims to repair the fabric between two people in a relationship. There are time-tested, effective techniques for fostering better communication and greater understanding. Too often, issues remain unresolved or not even discussed. That's the value of a psychiatrist from Online Psychiatrists in NJ, NY and FL. Best of all, you can get help in person or through telepsychiatry sessions. Reestablish the bond with your partner by calling today to schedule your first session.Marriages aren't all storybook endings. Some end in divorce. But along the way, you both make decisions that affect your union. If you're having trouble in your marriage — whether it's due to money issues, infidelity or communication breakdown — you owe it to yourselves to try to work things out before the problems tear you apart. Online Psychiatrists — serving couples in NY, NJ and FL — offers marriage counseling services to help you not only save your marriage, but strengthen it.
★★★★★
He's honestly wonderful. Genuinely intelligent doctors that actually take the time to listen to their patients are few and far in-between. On top of it, his staff is wonderful. All in all, I highly recommend him.
Google Reviews
Why Does Couples/Relationship Counseling Work?
Professional couples and relationship counseling gives you the benefit of a trained, licensed therapist. Your psychiatrist — serving adults in New Jersey, New York and Florida — provides a way to break your negative habits. The goal is to find positive and empowering ways to communicate to give your relationship the boost it needs.
When you're in the midst of a relationship, your view isn't objective. Getting an objective perspective makes the difference between a relationship that limps along and one that is rewarding and beneficial to both of you. If relationship counseling is conducted appropriately and in a timely manner, most couples benefit from the therapy.
Many couples wait until the relationship has become toxic before seeking guidance. This delay makes seeking help and putting the advice to work difficult. Additionally, make sure the therapist you see has the skills necessary to work with couples, since techniques for relationships differ from those used to work with individuals.
What Principles Apply to Couples Counseling?
The University of California in Los Angeles (UCLA) reviewed more than 40 years of research and concluded that certain principles are most effective for intervention. Regardless of your counselor's therapeutic approach, five strategies have been identified as the most effective. These principles involve:
Changing the views of the individuals in the relationship. Emotions easily distract from many positives in a relationship. Your therapist helps each individual take a step back and view the relationship from a more objective standpoint. That distance helps you understand the process of communication rather than playing the blame game or reacting to feelings without checking on each other's perspective. The goal of couples or relationship counseling in NYC, New Jersey and Florida is to help you understand the relationship, your feelings and your interactions with each other in healthier, more adaptive ways.
Changing behaviors that have become dysfunctional. Most couples find themselves repeating the same patterns over and over — especially when discussing money, family or parenting. Your psychiatrist watches these interactions between you. With guidance, you eventually find more productive and healthier ways to view disagreements and resolve conflicts. Resolution prevents an argument from devolving into actions that may cause psychological, physical or financial harm.
Working to decrease emotional avoidance. After years of ineffective patterns, many couples find it easier to just avoid any topics that increase negative emotions. Some individuals developed poor emotional engagement techniques as children watching other family members handle conflict destructively. Effective emotional engagement increases problem solving, fosters closeness, and allows both parties to request the things they need.
Increasing effective communication. In an effort to protect themselves from strong emotions, many couples develop abusive or ridiculing communication techniques. Your therapist provides effective couples counseling in NYC by coaching both of you to understand and use supportive communication styles. Working to understand your partner's viewpoint, as well as thoughtfully asking for your own needs, foster a positive interaction.
Promoting each individual's strengths. You have your areas of strength, and so does your partner. Your psychiatrist finds ways to enhance each of your strengths and bring them together. This strategy enhances the relationship by increasing the sense of belonging and working together productively. When you're part of a couple, you want and expect the feeling of teamwork and closeness. Helping identify and build on strengths encourages positive growth and feelings of togetherness.
Harvard Certified
Nationally Recognized
Book Appointment
What Happens During and After Counseling Sessions?
Your therapist from Online Psychiatrists develops a plan to help you resolve your conflicts and find your strengths. Depending on the nature and extent of the problems you present as a couple, you most likely need to follow an effective framework for change in about 12 weekly sessions. Your psychiatrist spends the first few sessions interviewing you both regarding your:
History together
Communication styles
Recent conflicts
Ways of resolving problems
Stresses that brought you to counseling
Your sessions last around 50 minutes apiece. You begin seeing some improvements within four or five sessions. Small changes during the week add up to larger changes and greater intimacy and closeness. Supportive couples encourage and enhance all areas of each other's lives.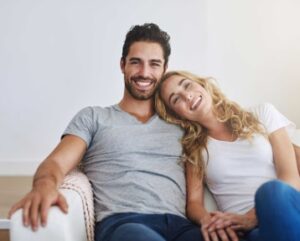 Reducing ineffective patterns, finding ways to encourage each other and enhancing communication techniques makes life easier and more enjoyable at home. The reduced stress often translates to greater satisfaction in parenting, work and friendships. Contact the practice today to see if couples counseling can help your relationship.