Premenstrual dysphoric disorder (PMDD) is like premenstrual syndrome (PMS) on steroids. It's disruptive and isolating, and it comes on every month, around the time of your menstruation. If there are no obvious physical reasons for the condition, you may have PMDD. The best treatment for it is not with your gynecologist, but with a PMDD specialist who happens to be a world-class psychotherapist. If you're in New Jersey, Florida or New York, call Online Psychiatrists to schedule an initial evaluation, which can be performed using modern technology and video conferencing.
★★★★★
He treated me as if I was his first and only patient. He listened to me as I explained every detail of my anxiety. This man is someone who went into medicine for precisely the reason we hope all medical professionals join the field — to help people.
Google Reviews
What Is Premenstrual Dysphoric Disorder?
You've probably heard of premenstrual syndrome or PMS, a condition that ties your menstruation cycle to unpredictable mood swings. Premenstrual dysphoric disorder (PMDD) is a clinical condition that's considered to be an advanced form of PMS. Its symptoms are more severe, and its effects on your life and relationships are more disruptive.
The condition triggers physical symptoms common to PMS sufferers, but also extreme psychological changes that strain your quality of life. Untreated, the condition can lead to panic attacks and generalized anxiety disorder (GAD). While your primary care physician or your gynecologist addresses the physical symptoms,
you need a trained and compassionate psychotherapist to treat your uncontrollable mood shifts. Medication management and targeted talk therapy lessen your physical symptoms and help you learn to recognize and avert the worst of your emotional outbursts.
Harvard Certified
Nationally Recognized
Book Appointment
What Causes PMDD?
This is a chronic condition that affects women of childbearing age. While the exact cause of PMDD isn't known, doctors believe there is a connection between your menstrual cycle and the condition. You may be at risk for PMDD if you:
Have an abnormal reaction to the routine hormone changes that occur during your periods. As hormones fluctuate throughout your cycle, they trigger a deficiency in serotonin, a hormone that affects your mood and causes other physical symptoms.
Have a family history of PMS, PMDD, depression or other mood disorders.
The condition may have biological causes, but it instills negative thought processes. A PMDD specialist at Online Psychiatrists works with you to find ways to prevent the monthly emotional disruption in your life — or at least to lessen its impact. While you're not at fault for the symptoms, your psychotherapist empowers you to take action to save your relationships, advance your career and better your life.
What Symptoms Require PMDD Treatment?
Like PMS, PMDD usually begins with symptoms about a week before your period. It continues into your menstruation cycle for at least several days. The symptoms are often so severe they affect your daily life and hinder your home life, work life and relationships. The most common physical symptoms include:
Abdominal cramps and bloating
Breast pain or tenderness
bathroom
Painful menstruation
Insomnia
Fatigue, which is often severe
Food cravings or an eating disorder
The emotional or behavioral symptoms are varied because each woman may experience the condition somewhat differently. The symptoms you may recognize include:
Anger and irritability
Depression and feelings of hopelessness
Anxiety or GAD
Nervousness and agitation
Mood swings
Panic attacks
Lack of focus or concentration
Emotional sensitivity with crying spells
Headaches
Decreased libido
Because PMDD's symptoms mimic those of other medical conditions, discuss your symptoms with your physician and OB/GYN. Once your doctor determines a diagnosis of PMDD, don't overlook psychological treatment. At Online Psychiatrists, you can receive in-office consultations or remote therapy via telepsychiatry.
What Works as a Premenstrual Dysphoric Disorder Treatment?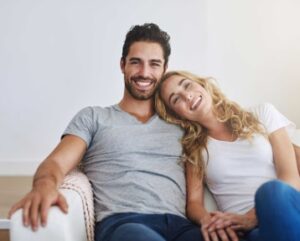 There are no tests for PMDD. A diagnosis requires looking at your behavior and symptoms before and during the onset of the condition. The goal of your PMDD specialist is to reduce and manage your most debilitating symptoms. You likely need a combination of lifestyle changes, medication and psychotherapy.
Your recommended lifestyle changes include:
Getting regular exercise to relieve physical symptoms and boost serotonin
Incorporating massage or yoga into your routine for greater relaxation
Sticking to a bedtime routine to encourage better sleep
Increasing the amount of carbohydrates and protein you consume, with more fruits, whole grains and vegetables
Taking vitamin supplements, such as vitamins B6 and E, magnesium and calcium
Eating smaller, more frequent meals
Decreasing the salt, alcohol, sugar and caffeine you consume
Your medication treatment for PMDD in NYC, NJ or FL includes:
Taking non-steroidal anti-inflammatory medications (NSAIDs) such as ibuprofen before your period
Starting prescription antidepressants with selective serotonin reuptake inhibitors (SSRIs)
Taking birth control pills that use hormones to stop ovulation
Taking birth control pills regularly, with no or a reduced amount of time off
Getting prescription anti-anxiety medication to relieve your tension and help you sleep
Consuming diuretics to reduce water retention
The premenstrual dysphoric disorder treatment through psychotherapy includes:
Untreated, your PMDD symptoms may last for years or longer. Your behavior can't improve or change without an intervention from an experience psychotherapist. Are you looking for PMDD treatment near me? Contact Online Psychiatrists for an appointment in NYC, NJ, or FL if you notice your PMS is unusually severe. You can find answers to improve your quality of life and strengthen your relationships.