You don't fit into a cookie-cutter therapeutic environment. At Online Psychiatrists, your specific needs, goals and desires are addressed through the most effective individual therapy in New York, New Jersey and Florida. With the most up-to-date teleconferencing capabilities, you can get effective treatment from the comfort of your own home. Your well-being, comfort and improved quality of life are the only things that matter to your psychiatrist. Call today for an initial consultation.
★★★★★
At first I was hesitant to see an online doctor because to me it seemed rather impersonal. However after video chatting with Dr. Ivanov I can assure you that is not the case. Dr. Ivanov took the time to listen to what I had to say and how I was feeling. Not once did he judge me or belittle me for what I am dealing with. He truly is a caring, attentive and knowledgeable doctor. I have found my new psychiatrist and I highly recommend him.
Google Reviews
What Is Individual Therapy?
Individual counseling psychotherapy allows you to work one-on-one with your mental health provider on the issues you care most about. Through a series of sessions, you set goals, explore thoughts and feelings, or just have support as you think things through. You can also take advantage of other assistance, such as medication management, career counseling or grief counseling.
When looking for individual therapy near me, you'll find Online Psychiatrists if you're in Florida, New York or New Jersey. This is an evidence-based and results-oriented mental health practice, where you're assured top-quality treatment by an experienced psychiatrist, Dr. Zlatin Ivanov. His goal is to put himself out of business by treating you successfully — and that's Dr. Ivanov's mantra.
Are There Different Types of Individual Therapy?
You don't want to waste a lot of time or money with individual therapy that goes nowhere. At Online Psychiatrists, you won't get dragged into a swamp of unnecessary analysis. Fortunately, there's more evidence every day about what works and what doesn't. Your options include:
Your psychiatrist's concern is getting you the help you need in the shortest period of time possible. Dr. Ivanov favors a targeted, well-executed plan for your treatment.
What Conditions Can Be Treated with Individual Therapy?
For individual psychotherapy, the best results come from matching the problem to the correct solution. Your doctor is familiar with the science of psychiatric problem resolution. Dr. Ivanov brings a wealth of experience to treat a wide range of issues, including:
Mood disorders
Postpartum depression
Major traumas
PTSD
Bipolar disorder
Insomnia
Social anxiety
Eating disorders
On the other hand, your problem may involve a specific obstacle, a relationship or a goal you want to achieve. Goal setting, career counseling or just supportive listening are all helpful. Your mental health provider treats a wide range of issues through individualized talk therapy.
Harvard Certified
Nationally Recognized
Book Appointment
How Do I Know if I've Found a Good Psychiatrist?
Studies show that having a good relationship with your mental health provider is the most critical factor for achieving positive change during individual psychotherapy. If you can develop a good rapport with your psychiatrist, you feel safe and avoid trust issues. Other signs of a good relationship include:
You feel comfortable sharing your thoughts and feelings.
Communication becomes easier for both of you.
A trustworthy therapist relies on scientific evidence.
The positive relationship motivates you to accomplish whatever goals you've set.
You don't have to worry about have more sessions than you need. The process only continues as long as you need it to.
Trendy techniques aren't necessary; it's all about the relationship.
Is Individual Therapy a Holistic Approach?
A mind/body approach to psychotherapy becomes pertinent when you have a mental illness that results from imbalanced brain chemistry. This type of individual therapy is called integrative mind/body therapy, and it has specific advantages if you:
Want individual psychotherapy to help you process feelings while a treatment of medication addresses your imbalance
Work with a medical doctor who prescribes and helps you manage your medications, making adjustments as needed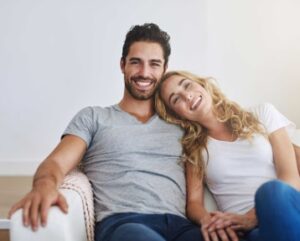 You can practice integrative therapy either in traditional in-person visits or via telepsychiatry sessions. Like gestalt therapy, integrative therapy is still individual therapy, but it works a little differently to get results.
Is Individual Therapy All the Same?
Different stages in your life require different therapeutic approaches. At some point, you may want to enhance your individual psychotherapy by incorporating group therapy. Your doctor may also suggest adding medication to address brain chemistry imbalances or provide temporary relief from chronic pain.
People who search for individual therapy near me are likely looking for different things. Individual counseling psychotherapy can effectively address conditions that range from facing traumas and overcoming fears to practicing new social skills in a safe environment. Your well-being is the top priority at Online Psychiatrists. Contact the practice today to set up your initial consultation