Postpartum depression is common among women who feel depressed and confused after having a baby when they think they should be elated. The same affliction happens to men too. It's not widely talked about, but it's very real and very treatable through talk therapy with a compassionate, understanding therapist. At Online Psychiatrists, your psychotherapist specializes in a variety of therapeutic options to help you understand and move through what is a recognized mental health disorder. In New York, New Jersey and Florida, receive the most effective treatment for male postpartum depression either in person or via online video conferencing. Call today for an appointment
★★★★★
Dr. Ivanov is a thoughtful and caring doctor. His treatment has been working very well for me. He makes himself available and never makes me wait too long to be seen. I am in finance management and extremely busy with work. I appreciate physicians who value their patients' time. I have been going to Dr. Ivanov for years and refuse to see anyone else.
Google Reviews
What Is Male Postpartum Depression?
Male postpartum depression is a mental health condition that affects new fathers. About two to 25 percent of men experience this form of depression during the pregnancy phase or shortly after the birth of the child. It can strike a new father anywhere from three to six months after the birth.
Nearly 50 percent of cases of postpartum depression in men occur because their wives suffer from postpartum depression as well. Seek help for this silent condition from an expert who understands what you're going through.
Your psychotherapy doctor at Online Psychiatrists knows the most effective way to treat male postpartum depression. Serving New Jersey, New York and Florida, this practice offers online psychotherapy sessions conducted remotely to give you the confidentiality and safe environment you need to feel better quickly.
Males Can Have Postpartum Depression?
Yes, men can get postpartum depression just like women. Unfortunately, due to the nature of the symptoms and social pressure, most men don't seek medical help immediately. As a man, you don't want to look weak by openly talking about what you're going through.
Most male postpartum depression is due to hormonal changes. Just like women, your hormones change during the pregnancy. These changes continue for several months after the birth. The decrease in testosterone hormones during this time, for example, is linked to depression in men. Other hormones — like estrogen, cortisol, vasopressin and prolactin — also interfere with your mental health.
Other factors that contribute to postpartum depression in dads include:
Feelings of inadequacy
Family history of depression or anxiety disorders
Employment or financial problems
No support system from family or friends
Marital problems
Lack of sleep due to the baby constantly crying
Feeling excluded from the special bond developing between the mother and baby
An unplanned pregnancy
Harvard Certified
Nationally Recognized
Book Appointment
What Are the Symptoms of Male Postpartum Depression?
Many men downplay the stress, tiredness and feelings of being overwhelmed after a baby is born. You may think it's a common reaction to the changes in your household. But male postpartum depression is very real and often doesn't go away on its own.
You don't hear much about this condition because new fathers don't want to burden their wives and friends with talk about feeling weak and sad after they bring a new baby into the home. There's already too much to do with a newborn in the house. Signs that you may be going through more than just a little disruption in your routines include:
Increasing your alcohol intake
Abusing narcotics or prescription drugs
Getting angry more often than normal, resulting in conflicts
Feeling frustrated or irritable
Being easily stressed
Exhibiting violent behaviors
Losing or gaining weight
Complaining of headaches or stomach problems
Having difficulty concentrating and getting motivated
Working constantly
Doing more impulsive things, such as driving recklessly or indulging in an extramarital affair
Losing interest in work, hobbies or sex
Feeling discouraged and cynical
Being fatigued
Having suicidal thoughts
Feeling so sad that you start crying without reason
Entertaining negative thoughts about your manhood and how you should behave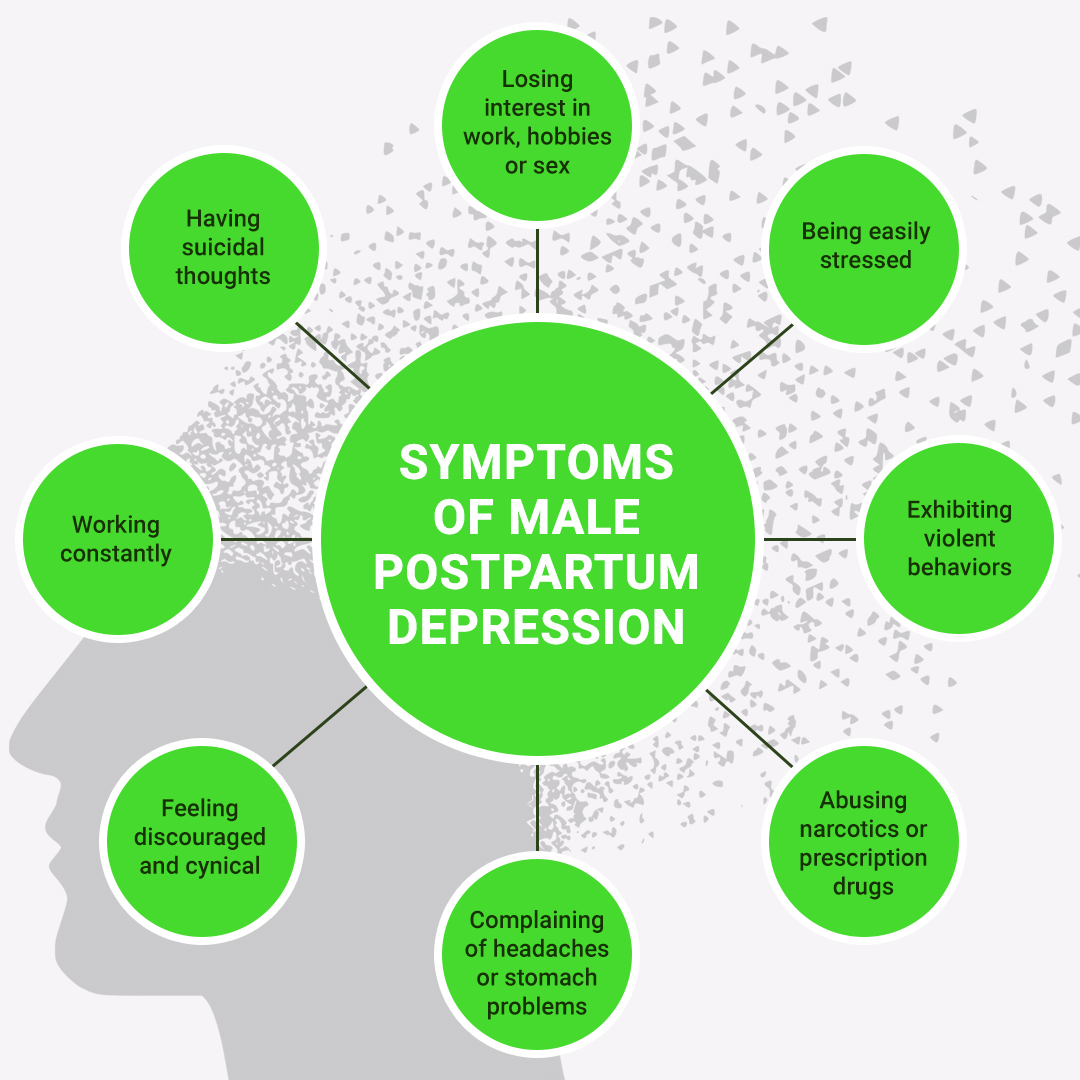 How Do You Treat Postpartum Depression in Dads?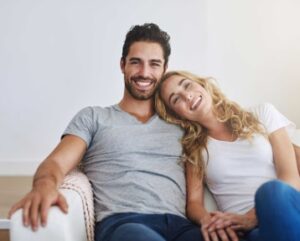 Admitting you have a problem is the first step to recovery from this disorder. Your doctor at Online Psychiatrists talks with you about your feelings in the complete privacy of a patient room or video chat. Confidentiality and trust allow you to open up about how you feel.
Talk therapy is the most effective treatment. Depending on your goals and preferences, you may participate in a variety of therapeutic sessions, such as:
What Else Can I Do to Overcome Male Postpartum Depression?
Other, co-existing conditions like manic depression or anxiety may require medication, which your psychiatrist prescribes and manages. You may be directed to a support group for postpartum depression in dads.
Avoid unnecessary grief and self-doubt through early detection of the condition. With proper treatment, you'll be able to bond with your child sooner and avoid painful lifestyle interruptions. Don't wait. Contact Online Psychiatrists to talk with a trained specialist to help you analyze your feelings and show you how to combat your unwanted feelings in a safe and productive manner.