When searching for a therapist near me for depression in New Jersey, New York or Florida, you'll find Dr. Zlatin Ivanov at Online Psychiatrists. This experienced depression doctor is especially astute in treating depression through telepsychiatry. His online sessions are proving to have quicker results than many in-person depression counseling treatments. Don't suffer from debilitating symptoms that keep you mired in the doldrums. Call today to set up an initial consultation and learn how to effectively fight depression.
★★★★★
Very interested in knowing how a patient's wellbeing is and if there are any new issues. Very attentive. I like this Dr. a lot and will continue to use him.
Google Reviews
What Is Postpartum Depression?
Postpartum depression is a common mental health problem that affects new mothers. About one in nine women need postpartum depression treatment to overcome the problem. Your health and the health of your baby are at jeopardy if you don't start a postpartum therapy program right away.
Through Online Psychiatrists in New Jersey, New York and Florida, talk therapy is available to manage your depression so you can provide appropriate care for your child. Remote video conferencing and telepsychiatry provide you direct access to a trained, compassionate doctor who specializes in a number of effective treatments for postpartum depression.
How Do I Know if I Have Postpartum Depression?
Following the birth of your child, you may go through an emotional turmoil because of hormonal changes. In fact, nearly half of the women diagnosed with postpartum depression also suffered from prenatal depression. Common symptoms of the condition include:
Restlessness
Moodiness
Feeling sad and hopeless
Becoming easily overwhelmed
Crying a lot
Thinking about hurting yourself or your baby
Questioning your desire to have the baby
Difficulty bonding with your child
Wondering if the baby is even yours
Lack of energy
Lack of motivation to do anything
Insomnia or excessive sleeping
Memory problems
Developing unrelated physical aches and pains
Trouble focusing and making decisions
You may hide your pain because you're ashamed of your thoughts and feelings. But feelings of sadness and despair are signs that something is wrong. You may very well be going through postpartum depression, which can be resolved once you start psychotherapy sessions.
Harvard Certified
Nationally Recognized
Book Appointment
What Causes Postpartum Depression?
Your psychotherapist first explains that the condition is not your fault. Hormonal changes in your body are to be blamed for triggering your postpartum depression. Female hormones like estrogen and progesterone reach their peak during the pregnancy and quickly drop within 24 hours of giving birth. This sudden drop is what's causing your depression.
Your thyroid gland may also be acting up, causing the thyroid hormones to misbehave. You also may be susceptible due to certain risk factors such as:
A family history of depression or mental illness
Being a first-time mother
Getting pregnant at a young age
Problems in the marriage
The baby is premature or has medical complications
The baby cries a lot or has irregular hunger and sleep cycles
Financial or employment difficulties
No support in caring for the newborn
What Are the Risks Associated with Postpartum Depression?
Many women think the feelings of sadness and emptiness are all in their heads and that they'll go away eventually. In fact, the much less harmful condition called baby blues does go away in three or five days. But postpartum depression lingers on, making you feel even more hopeless and detached from your child.
Studies show that infants of postpartum depressive mothers suffer damaging consequences such as:
Poor cognitive functioning
Heightened stress levels
Emotional maladjustment problems
Lack of bonding when you don't feel like breastfeeding or holding your baby
Fear of abandonment when you aren't consistent with care
Additional damage when the father also suffers with male postpartum depression
How Is Postpartum Depression Treated?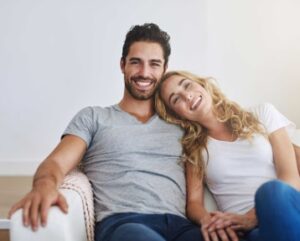 Initially, your psychotherapist assesses the severity of your condition through a series of questions. You may require medical tests to find out the extent of your hormone imbalance. If your doctor determines you have underlying, ongoing mental health problems such as anxiety or an eating disorder, you may need medication, which your doctor prescribes and manages.
Psychotherapy, more commonly referred to as talk therapy, provides you with the platform to share your feelings and learn effective techniques to manage your condition until it passes. Common treatment modalities are geared toward your specific needs. The only goal is your health and ultimate well-being. Options include:
Cognitive behavior therapy
Dialectical behavior therapy
Individual therapy
Integrative therapy
Gestalt therapy
Group therapy
Interpersonal therapy
The sooner you get help, the faster you start bonding with your baby. And the sooner you'll feel better about yourself and your family's future. Don't hesitate. Appointments are even available evening and weekends. Contact Online Psychiatrists to schedule an appointment.